Evangel is a 90-year-old church, rich in history. Their current church branding reflects a well-established church that is relevant in their visual communications style.
About Evangel Church
They have gone through three building changes, and now they are in their second expansion of the current building. Evangel focuses on the young family, given the town is very family driven. They launched their second campus on September 1, 2019, in the small town of Garrison, ND.
The people of Evangel and the midwest are so hard-working, boots on the ground, caring and servant driven people. They have four services on a Sunday, and it's not uncommon to see families serving at all of them because they want to be a part of making a difference in someone's life.
The Lead Pastor, Josh Skjoldal, has a passion to see local churches press into rural towns because no one is going after them. He believes that everyone deserves to have access to a Spirit-led, Bible-believing, life-giving church! Often times, he will say, "we are just the lucky suckers that God chose, and we are going to steward what we have well!" They want to be a lighthouse for their region.
Josh also says, "Today, we are standing in the harvest of the seeds that other men have planted. We are reaping what generations before us sowed in faith."
Mission Statement: Evangel exists to build the Church in the Northern Great Plains region through lives transformed by Jesus-centered message, Spirit-empowered experiences, and authentic relationships before Jesus returns.
Name origin and meaning
They have gone through 4-5 different name changes. The last 3-4 have still held part of the Evangel name (which they simplified and modernized).
What the church logo design represents
Meaning of the logo: Light, Future, community, foundation.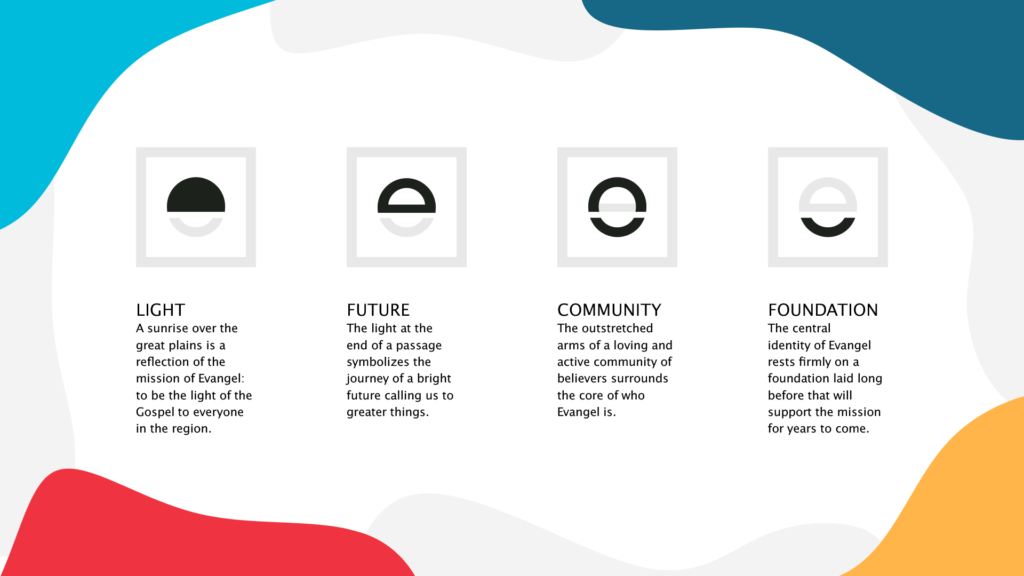 Meaning of the color
They wanted to use colors that embraced who Evangel was – lively and passion-driven! The church, although 90 years old, is alive and well and growing!
How the church wants to be perceived
That they are a church not only in their community but a church for their community. They honor the past but look ahead to the future!
Find out more
We would like to thank Brit Carson from Evangel Church for sharing the story behind the design. To find out more about the church visit their website and follow them on social media: